Train Expo Colorado (TECO) was organized by several Colorado Springs and local Model Railroad Clubs and Associations to promote and inform the public about the hobby, combine events, swap-meets, to recruit new members and support youth in model railroading programs. We also inform the public about railroad activities, attractions, museums, excursions, shows and events. TECO is a non profit organization managed completely by volunteers provided by the supporting Model Railroad clubs and associations.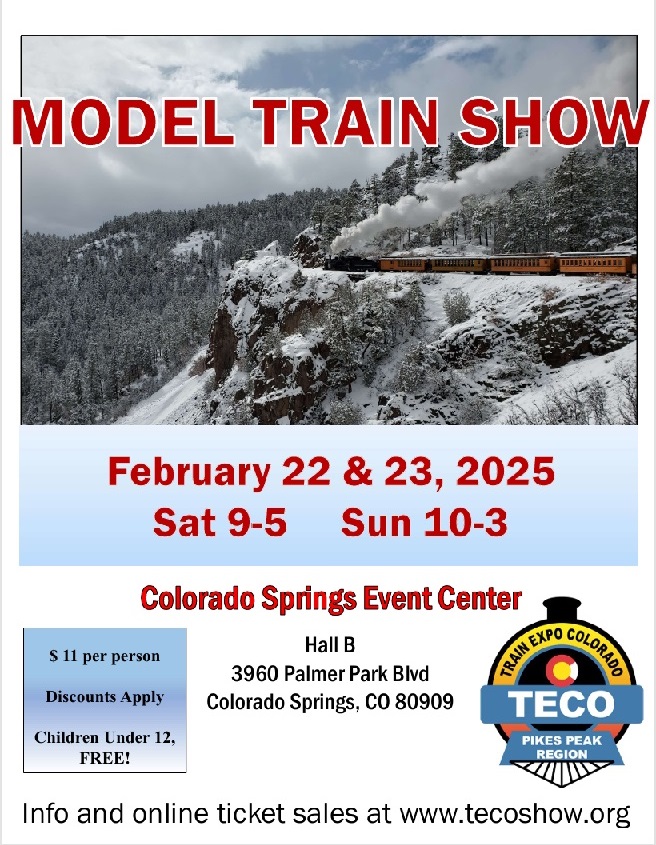 ---

---

Train Expo Colorado has a new location! Located in the Chapel Hills Mall Event Center, Upper Level, at 1710 Briargate Blvd.

The TECO 32 Model Train Show was held on Saturday and Sunday April 28 - 29, 2018. Operating model train layouts and vendors were only a portion of the model train show. Historical presentations on the Denver and Rio Grande were held daily at 12:30 PM and 1:30 PM, hourly "how-to" clinics, a Seek & Find scavenger hunt for children of all ages, as well as hourly door prizes for those in attendance. We'll be postiing videos and photos in the next week.

The BSA Railroading Merit Badge was offered on Saturday. Scouts in uniform entered the show free.

Our next TECO Train Show will be on October 13 & 14.

Cost: $6 per person or $10 for a family of two or more. Seniors and military receive a $1 discount. Accompanied children, 12 and under are free.

Visit us on Facebook for photos of TECO 32




Click the TECO Swapmeet button for information and forms.
---
Participating Organizations: Pikes Peak 'N'Gineers MRR Club - Rio Grande Modeling & Historical Society - Pikesmasters Model RR Club - Pikes Peak Division of NMRA - Youth in Model Railroading (Colorado Springs) - Pikes Peak and Southern Railroad - Slim Rails Colorado Narrow Gauge Modules
---





<! BmWYJC1OsBE>
---
Copyright (c) 2011-18 Train Expo Colorado. All Rights Reserved.
(Design.)